My Blog
Posts for tag: crowns
By Darby Dental Services
August 23, 2021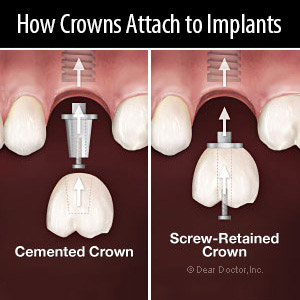 If you've decided on a dental implant to replace a missing tooth, you've made a great choice. Implants are a big favorite of both dentists and patients, not only for their life-likeness, but also their durability. Studies show that more than 95% of implants survive after ten years.
As you may know, single tooth implants are composed of two main parts: a metal post (usually titanium) imbedded in the jawbone; and a life-like crown affixed to the end of the post. But what you may not know is that there are two ways to attach the crown—either with screws or with dental cement.
Neither way is superior to the other—both have their own set of advantages and disadvantages. A cemented crown, for instance, usually looks more like a natural tooth than a screw-retained crown (more about that later) and dentists have more flexibility in making them look natural.
But cemented crowns require an additional piece of hardware called an abutment to better match it with the implant, something unnecessary with a screw-retained crown. Some people can also experience a reaction to the cement resulting in inflammation or even bone loss. And once installed, removing the crown later for repair or replacement is much more difficult than with a screw-retained crown.
Besides attaching directly to the implant, screw-retained crowns don't require cement and are more easily attached and removed. But the screw-hole can pose some aesthetic problems: Although it can be filled with a tooth-colored filling, the tooth's appearance isn't as ideal as a cemented crown.
So, which one is best for you? That will depend on the type and location of teeth being replaced, as well as your dentist's preferences. For instance, a more attractive cemented crown may be better for a visible front tooth, while a screw-retained crown might be a good choice for a back premolar or molar where appearance isn't as big a factor.
In the end, it's likely your dentist will discuss the pros and cons for each method as it pertains to your individual case. Whichever way your crown attaches, the end result will still be a life-like tooth that could last you for years to come.
If you would like more information on dental implants, please contact us or schedule an appointment for a consultation. You can also learn more about this topic by reading the Dear Doctor magazine article "How Crowns Attach to Implants."
By Darby Dental Services
February 22, 2021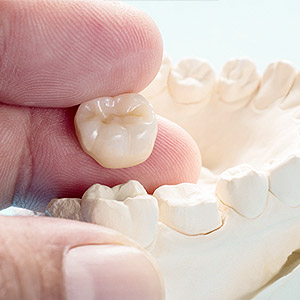 Millions of Americans rely on dental insurance to help them better afford dental care. Depending on the benefit package, an insurance policy can be useful in restoring dental health compromised by disease or injury.
But how life-like that restoration may appear is often a secondary concern with many insurance plans. For example, dental insurance will pay for a crown restoration that restores function to a tooth, but not necessarily of the highest aesthetic quality for achieving a truly life-like appearance.
To be sure, not all dental crowns are the same. Some are all metal, usually gold or silver. Some are "hybrids," made of an interior metal shell with an outer fused porcelain shell (porcelain-fused-to-metal or PFM). In recent years all -ceramic crowns made of stronger life-like ceramics have become the most popular.
The type of crown used will depend a great deal on the type and location of the tooth. Teeth on the back of the jaw that encounter greater biting forces and are not as noticeable in the smile may do better with a metal or PFM crown. Visible side and front teeth are more likely candidates for all-ceramic. Your dentist will give you your best options as it pertains to your dental needs and appearance.
There's also a difference in crown workmanship. Dental laboratories now use milling machinery that sculpts a crown from a single block of material. Although some final handwork by skilled technicians is still necessary, milling has streamlined the process—and the cost—for producing a crown of high functioning quality.
But crowns that achieve the most natural smile appearance require more in the way of artistic craftsmanship. This in turn can increase the crown's price—beyond what many dental policies agree to cover. You may then be faced with a decision: an insurance-covered functional crown with an acceptable level of life-likeness or a more life-like crown for which you may have to pay more out-of-pocket.
Your dentist can advise you on your best options for a crown restoration, also factoring in what your insurance will cover. Ultimately, though, you'll have to weigh the kind of smile you desire with your dental situation and finances.
If you would like more information on dental crown restorations, please contact us or schedule an appointment for a consultation. You can also learn more about this topic by reading the Dear Doctor magazine article "Porcelain Dental Crowns."
By Darby Dental Services
July 17, 2019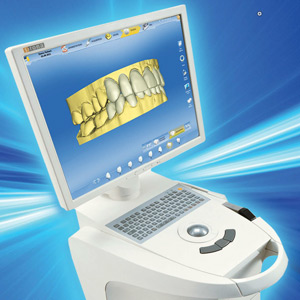 The traditional way to restore a tooth with an artificial crown takes several weeks and multiple office visits: from tooth preparation and impression molding to crown production by a dental laboratory, followed by adjustments and cementing. Now, there's an alternative that reduces this process to a fraction of the time, and all from your dentist's office.
Computer-Aided Design/Computer-Aided Manufacturing (CAD/CAM) is a digital system that enables dentists to create dental restorations with laboratory-grade materials in minutes rather than weeks. As it continues to innovate, you'll see more and more dentists investing in the new technology for their patients.
A crown restoration with CAD/CAM begins like any other with decay removal and preparation of the tooth. It diverges, though, from the traditional in how an impression of your teeth and gums is obtained: instead of rubber-like molding materials to create a physical impression, we lightly dust the mouth interior with a reflective powder. Using a scanning wand, the reflective powder allows us to capture multiple, detailed images of your mouth that the CAD/CAM computer transforms into an accurate three-dimensional model.
We use the model to first assess if the tooth has been effectively prepared for a restoration. If so, the design feature of the system will provide us with thousands of tooth forms to choose from to match with your natural teeth. You'll be able to view the proposed size and shape of the new crown via computer simulation before signing off on the design.
Next is the actual manufacture of the crown that takes place right in the dentist's office. A pre-formed block of ceramic material is inserted in the milling equipment where, following the pre-determined computer design, the milling heads carve the ceramic block. After milling, we fine-tune the crown surface and apply stains or glazes fired to create a life-like color and texture that matches your natural teeth. We can then adjust the crown in your mouth and permanently affix it to the tooth.
While much of the CAD/CAM system is automated, ultimate success still depends on the dentist's expertise and artistry. CAD/CAM enhances those skills with greater precision and in much less time than traditional crowns. It's certainly a growing option for many people to restore the form and function of decayed teeth.
If you would like more information on computer-aided dental restorations, please contact us or schedule an appointment for a consultation. You can also learn more about this topic by reading the Dear Doctor magazine article "Creating In-Office Dental Restorations with Computers."